4th Feb Arenacross Go-Moto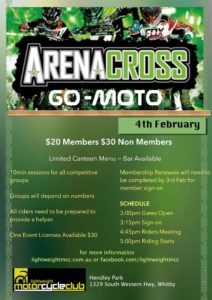 GoMoto's are a fantastic non-competitive event which allows us to provide ride days for our members as well as the public to come and try Motocross or Arenacross (short course night Motocross).
This is a change to the Lightweight calender as previously we held a practice on the evening before an Arenacross race meet however we recognise that a lot of riders don't want to ride in a competitive atmosphere and those who've not raced before want to ride at our brilliant facilities and during the week isn't accessible. Therefore we have the benefit of a race day atmosphere in a non-competitive environment.
COST
$20 for Lightweight Club Members
$30 for non-members
$30 for a one-event license, see license information below
LICENCES
All participants must hold an MA licence of one of the following types:
~ Any national or restricted junior or senior annual competition licence. A reminder that your MA license is only valid with a full membership with an affiliated club.
~ Mini or Recreation annual licence.
~ One Event Recreation licence which are completed at sign on and cost $30
FAQ's
~ All riders under 18 MUST have a parent or guardian with them alternatively a guardianship form can be completed appointing a temporary guardian.
~ All riders a required to bring a volunteer with them. This is for their own safety as we have numerous flag Marshall spots on the track we need to fill. We endeavour to run our Go-Moto events inline with a race day so as that everyone knows what is expected, minus the start gates. These marshalls operate in shifts and it's one volunteer per family.
~ All riders must have a minimum of Motocross boots, long sleeve jersey, long pants, body armour, helmet in good order, gloves and goggles. A reminder that tear off's are no longer allowed.
~ Bikes must be in safe operating condition and may be subject to inspection by our officials.
~ Access to the facility is from 1329 South Western Hwy and parking is ample. Due to a coaching clinic occurring on the Motocross Track there will be no access to park here until after 4.
HOW IT WILL RUN
Riders will be required to sign on between 3:15 and 4:30 so as that we can work out the volume of riders we have and how we can split them into groups for as much riding time as possible. Sign on takes place in the green demountable office alongside the Arenacross track.
The 50 demo riders will finish early for their own safety but we welcome them to stay around and watch the action.
A riders brief will be held at 4:45 advising the order of events as well as all the safety information you need to be aware of.
CANTEEN & BAR
We have a fantastic onsite canteen which will be operating however on a slightly smaller menu. Our bar will be open and as such it's a licensed venue and NO BYO ALCOHOL is permitted
MEDICAL SERVICES
We will have first aid services on site and St John Ambulance is advised of the event and provide an excellent service. As such all participants must have Ambulance cover or you will be liable for any Ambulance charges incurred.
If you have any queries please do not hesitate to email racesecretary@lightweightmcc.com.au, message us through our facebook page https://www.facebook.com/LightweightMCC/ alternatively call Mel on 0438 524 720 or Jos on 0423 149 148