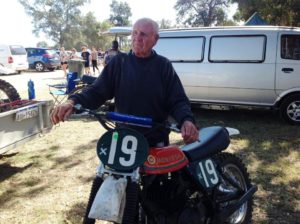 The Lightweight Motorcycle club was founded in 1952.
From 1974 Don Hendly allowed motocross events to be conducted on his property just outside Byford on the South West Highway.
Sadly he passed on in 1980 and the property was then acquired by the Pioneer Quarry Group. Negotiations with them saw Landcorp take over the management of the land. In 1990 the then club President Ron Deadman arranged to have the property transferred from landcorp and vested with the Serpentine Shire council to be gazetted as a Motorcycle Off-road Facility for the Lightweight Motorcycle Club.
In closing all past, present members and any competitor who has competed at the venue acknowledges the generosity of the Late Don Hendley and all members will remember this now and in the future for the gift he has left all.
Life Members
Life Members are a great representation of the community spirit within our club and we'd like to acknowledge the time and dedication that these members have given to our club.
B White
T O'Leary
E Oliver
A Cox
A Squibb
Irwin Oliver
Ian Pickergill
Debbie Shaw
Ray & June Deane
Reg McKenny
A Milner
P Adams
Ray Long
Brent Campbell
S Bernstein
Dave Spedding
Ron & Maureen Tyers
Helen Shrimp
Vicki Smith
Peter Zahra
Rolley & Alison Norton
Tracey Simpson
Vicki Pollard
John Browne
Mario D'ercole (Snr)
Graeme Scott
Kerrie Byrne